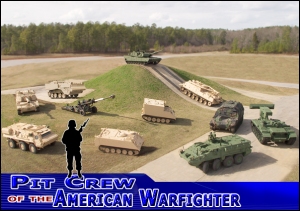 Location
Nestled in the foothills of the Appalachian Mountains in northeast Alabama, Anniston Army Depot (ANAD) occupies over 25 square miles of land in the southeastern United States. ANAD is located between two major cities, Atlanta, GA, 90 miles to the east on Interstate 20 and Birmingham, AL, 60 miles west on Interstate 20. Possibly the nation's most diversified defense resource, ANAD offers scenic splendor as well as unlimited natural resources. The base operator's phone number is (256) 235-7445.
History
Over the past half century, Anniston Army Depot has transitioned from forested depot to a high-density industrial complex while hosting a plethora of diverse and wide-ranging missions. Since its origin in 1942 as a storage depot, ANAD has been transformed into a state-of-the-market maintenance facility, earning its highly-esteemed reputation as "The Tank Rebuild Center of the World." Broadly diversified skills are deep-rooted at Anniston and our success is attributable to the teaming of our highly skilled workforce with a strong management support structure. Our workforce, armed with state-of-the-art equipment and technology, invites the challenge of any new work effort with the renowned "Anniston can do it" attitude.
Mission
Anniston Army Depot, a part of the U.S. Army Tank Automotive and Armaments Command, is the only Army depot capable of performing maintenance on both heavy and light-tracked combat vehicles and their components. The depot is designated as the Center of Technical Excellence for the M1 Abrams Tank and is the designated candidate depot for the repair of the M60, AVLB, M728 and M88 combat vehicles. ANAD has assumed responsibility for towed and self-propelled artillery as well as the M113 Family of Vehicles. Under partnership agreements, a wide range of vehicle conversions and upgrades are currently underway. The depot also performs maintenance on individual and crew-served weapons as well as land combat missiles and small arms. Additionally, the maintenance and storage of conventional ammunition and missiles, as well as the storage of seven percent of the nation's chemical munitions stockpile, are significant parts of the depot's overall missions and capabilities.
Population Served
ANAD's workforce includes Active Duty Officers, DoD Civilian Employees, Tenant Employees, Contract Employees, and NAF Employees. Key tenant organizations on the depot include the Defense Distribution Depot, Anniston (DDAA), the Anniston Munitions Center (ANMC) the Anniston Chemical Activity (ANCA), the Program Manager for Chemical Demilitarization (PMCD), the Center of Military History Clearing House, the 722nd Ordnance Company (Explosive Ordnance Disposal EOD) and the Defense Reutilization and Marketing.
Base Transportation
There is currently no on-post transportation.
Sponsorship
The Army Community Service Relocation Readiness Program provides Sponsorship Support upon request for incoming military and civilian employees. Contact the Relocation Assistance Program Manager at (256) 235-5247 or DSN 312-571-5247 for assistance.
Temporary Quarters
There is no temporary lodging available at Anniston Army Depot. Temporary lodging is available at several hotels/motels in our local community.
Relocation Assistance
The Army Community Service (ACS) Relocation Office is located in Building 94 on Facilities Blvd. Whether you are military or a Department of Defense civilian employee, you can request a welcome packet by contacting ACS at (256) 741-5247 or DSN 312- 571-5247. Relocation services available include: Newcomer's Welcome Briefing and Packets, Lending Closet, PCS Sponsorship Briefing, Auto Maps, Deployment and Mobilization support, and individual counseling.
Critical Installation Information
* Anniston Army Depot does not have base housing (except for the commander).
* Anniston Army Depot does not have a child development center. Plans for a Child Development Center are in the development stage at this time.
* Financial Assistance: Army Emergency Relief (AER) provides emergency financial assistance in the form of no interest loans, grants, part loan or part grant. Personnel eligible for assistance include active duty and retired Army personnel and their dependents; spouses and orphans of eligible Army personnel who died while on active duty or after they retired; members of the Army National Guard (ARNG); and the U.S. Army Reserve (USAR) on continuous active duty for more than 30 days and their dependents or who have retired after age 60. Contact the AER Officer in Building 94, or call (256) 741-5247 or DSN 312-571-5247 for more information.
Contact Information
Anniston Army Depot
7 Frankford Ave.
Building 94
Anniston, AL 36201-4199
Phone 256-235-7445
Phone (DSN) 571-7445
Emergency Relief Services
Army Emergency Relief
Anniston Army Depot
7 Frankford Avenue
Anniston, AL 36201
Phone (256) 741-5247
Phone (DSN) 571-5247
Family Advocacy Program
Family Advocacy Representative
7 Frankford Ave.
Bldg. 94
Anniston, AL 36201-4199
Phone (256) 235-7445
Phone (DSN) 571-7445
Family Center
Army Community Service
AMSTA-AN-CFA
Bldg. 94
7 Frankford Avenue
Anniston Army Depot, AL 36201-4199
Phone (256) 235-7445
Phone (DSN) 571-7445
Federal Credit Unions
AOD Credit Union
Anniston, AL 36201
Phone (256) 237-9494
Loan Closet
Relocation Assistance Program (RAP)
7 Frankford Ave.
Bldg. 94
Anniston, AL 36201-4199
Phone (256) 741-5247
Phone (DSN) 571-5247
Personal Financial Management Services
Consumer Affairs/Financial Assistance
Anniston Army Depot
7 Frankford Avenue
Anniston, AL 36201
Phone (256) 741-5247
Phone (DSN) 571-5247
Relocation Assistance Program
Relocation Assistance Program (RAP)
7 Frankford Ave.
Bldg. 94
Anniston, AL 36201-4199
Phone (256) 741-5247
Phone (DSN) 571-5247
Inprocessing Location
POC: Civilian Personnel Office
Location: Bldg. 7
Telephone: (256) 235-7860
Hours: Mon-Thurs 0700-1630, Alternate Fri 0700-1530
Photos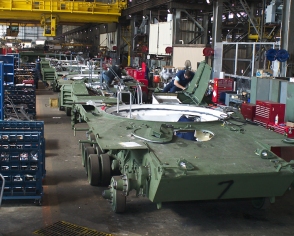 Four M-1 Abrams tanks are in various stages of upgrade on the reassembly line at Anniston Army Depot Combat Vehicle Facility. (U.S. Army photo)