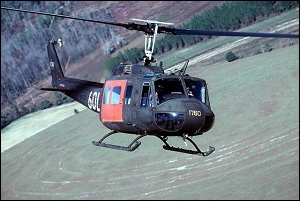 Location
The Army Aviation Warfighting Center, Fort Rucker, Alabama, is located in the southeast corner of Alabama. Fort Rucker is approximately 80 miles south of Montgomery and 20 miles northwest of Dothan. Florida's Gulf Coast lies 80 miles to the south. The communities of Enterprise, Daleville, and Ozark are west, south and east of the post, respectively and serve as our three main gates. The post covers about 64,500 acres of countryside in an area known as the "Wiregrass," named for a wild grass peculiar to the region. The area is known for its lower cost of living, making it a prime target for real estate investments. The base operator's phone number is (334) 255-1110 or DSN 312-558-1110.
History
Fort Rucker and Army Aviation trace their origins back to earlier eras, as both were products of World War II. During World War II, America conducted a manpower mobilization unprecedented in its history in terms of total numbers. The United States put into uniform over 16 million men and approximately 333,000 women. This mobilization called for the creation of new training camps and military bases, including Camp Rucker, named in honor of Colonel Edmund W. Rucker, a Civil War Confederate Officer, who was given the honorary title of "General." With the consolidation of all Army Aviation flight training at Fort Rucker in 1973, the post became the Mecca for Army aviators. Air Force helicopter pilots have also trained here since 1971, as have students from more than 60 foreign countries.
There is no shortage of new military elites emerging each year, who may have shown great courage or perseverance during a mission, or performed their duties in a manner that exceeded expectations. Throughout military history, Military coins have often been awarded for rewarding hard work and exceptional performance, and they are points of honor for those who serve! There are also coins made for special events, anniversaries, and military service birthdays that are distributed to service members designed to instill pride in the unit and enhance teamwork. Even in special cases, a troop coin can be used as an identification.
Mission
The current mission of the Army Aviation Warfighting Center is to develop the aviation force for its worldwide mission. This mission includes developing concepts, doctrine, organization, training, leader development, material, and soldier requirements. It is also to provide resident and nonresident aviation maintenance, logistics and leadership training in support of the total force and foreign nations for the sustainment of joint and combined aviation operations. Major commands on Fort Rucker include U.S. Army Garrison Fort Rucker, U.S. Army Aviation Warfighting Center, U.S. Army Combat Readiness Center, U.S. Army Warrant Officer Career Center, U.S. Army Aviation Technical Test Center (ATTC), Aviation Center Logistics Command (ACLC), U.S. Army Aeromedical Center, U.S. Army Aeromedical Research Laboratory, U.S. Army School of Aviation Medicine, and U.S. Army Air Traffic Services Command (ATSCOM).
Base Transportation
Currently, there is no base transportation on this installation.
Sponsorship
To request a sponsor prior to your arrival, simply forward a completed DA Form 5434 to your current Strength Management Work Center (SMGT) or Army Personnel Office. The SMGT will then forward the form to your gaining MACOM or activity here on Fort Rucker who will respond to your request. Depending on your incoming status, whether you are a student, permanent party member, or arriving to a tenant organization, your check-in procedures will vary.
Temporary Quarters
Reservations can be made with Army Lodging prior to arriving at Fort Rucker. Reservations for PCS or temporary duty schools are made with no advance restriction. Reservations for other TDYs can be made up to 30 days in advance. Reservations for retirees, graduation and other authorized guests are accepted up to 7 days in advance. Room rates range from $26 to $48 per day, based on occupancy ($5 extra per person).
Relocation Assistance
Spouses and family members of incoming soldiers should visit Army Community Service (ACS) located at the Soldier Service Center, Building 5700, Rooms 193 and 390. ACS offers many services and activities for families transitioning to the Army Aviation Warfighting Center including the ACS Lending Hangar, Welcome Packets, employment opportunities, support groups, various workshops and a host of other important information, activities and services. Please make ACS one of your first stops at Fort Rucker and let us become connected to you and your family. Army Community Service is open Monday through Friday, from 07:30 a.m. to 4:15 p.m. Call us for directions or for more information at (334) 255-3161/2887, DSN 312-558-3161/2887.
Major Units
1st Battalion 223rd Aviation Regiment
Contact Information:
COM: (334) 255-8424
DSN: 558-8424
FAX: (334)255-8816
Aviation Training Brigade
Contact Information:
COM: (334) 255-2313
DSN: 558-2313
FAX: (334) 255-3607
1st Battalion 14th Aviation Regiment
Contact Information:
COM: (334) 255-5034
DSN: 558-5034
FAX: (334) 255-5052
1st Battalion 145th Aviation Regiment
Contact Information:
COM: (334) 255-9073
DSN: 558-9073
FAX: (334) 255-2637
1st Aviation Brigade
Contact Information:
COM: (334) 255-9347
DSN: 558-9347
FAX: (334) 255-3626
1st Battalion 212th Aviation Regiment
Contact Information:
COM: (334) 255-4113
DSN: 558-4113
FAX: (334) 255-4127
1st Battalion 210th Aviation Regiment
Contact Information:
COM: (334) 255-3245
DSN: 558-3245
FAX: (334) 255-1022
1st Battalion 13th Aviation Regiment
Contact Information:
COM: (334) 255-1318
DSN: 558-1318
FAX: (334) 255-1332
Helicopter School Battalion
Command Information:
Comm: (334) 255-4341
DSN: 558-4341
FAX: (334)255-4166
Air Traffic Services Command
Command Information:
Comm: (334)255-1607
DSN: 558-1607
FAX: (334) 255-3238
Veterinary Command
Contact Information:
Comm: (334) 255-0933
DSN: 558-0933
FAX: (334) 255-2404
USAR 851st Quartermaster Company
Contact Information:
Comm: (334) 255-2615
DSN: 558-2615
FAX: (334) 255-9250
US Army School of Aviation Medicine
Contact Information:
Comm: (334) 255-7409
DSN: 558-7409
FAX: (334) 255-7084
USAF 23d Flying Training Squadron
Contact Information:
Comm: (334) 255-1680
DSN: 558-1680
FAX: (334) 255-3334
US Army Aeromedical Research Lab
Contact Information:
Comm: (334) 255-6886
DSN: 558-6886
FAX: (334) 255-6937
US Army Aviation Technical Test Center
Contact Information:
Comm: (334) 255-8002
DSN: 558-8002
FAX: (334) 255-8005
US Army Aeromedical Center
Contact Information:
Comm: (334) 255-7359
DSN: 558-7359
FAX: (334) 255-7368
US Army Dental Clinic Command
Command Information:
Comm: (334) 255-9285
DSN: 558-9285
AMCOM Aviation Center Logistics Command
Contact Information:
Comm: (334) 255-9159
DSN: 558-9159
FAX: (334) 255-3112/1460
US Army Warrant Officer Career Center
Command Information:
Comm: (334) 255-9031
DSN: 558-9031
FAX: (334) 255-1173
USAR 2nd Platoon, B Company, 2/228th Avn Bn TA
Contact Information:
Comm: (334) 255-8532
DSN: 558-8532
US Army Safety Center
Contact Information:
Comm: (334) 255-9493
DSN: 558-9493
Noncommissioned Officer Academy
Contact Information:
Comm: (334) 255-3352
DSN: 558-3352
FAX: (334) 255-1308
USAR 191st Maintenance Company
Contact Information:
Comm: (334) 255-3002
DSN: 558-3002
FAX: (334) 255-9250
Contact Information
Fort Rucker
Novosel Street
Building 5700
Room 193
Fort Rucker, AL 36362
Phone 334-255-3735
Phone (DSN) 558-3735
Adult Education Centers
ACES Education Center
Novosel Street
Bldg. 5700
Rooms 225 and 240
Fort Rucker, AL 36362
Phone (334)255-2378
Phone (DSN) 558-3941
Adult Education Centers
ACES Learning Center
Fifth Avenue
Bldg 9204
Fort Rucker, AL 36362
Phone (334) 255-2378
Phone (DSN) 558-2925
Barracks/Single Service Member Housing
Army Lodging
6th Avenue
Building 308
Fort Rucker, AL 36362
Phone (334) 598-5216
Phone (DSN) 558-2626
Beauty/Barber Shops
Beauty Shop
5th Avenue
Building 9214
PX
Fort Rucker, AL 36362
Phone 598-4315
Child Development Centers
Child Development Center
Red Cloud Road
Bldg 8938
Fort Rucker, AL 36362-5000
Phone (334) 255-2262
Citizenship and Immigration Services
ACS Relocation Readiness Program
Novosel Street
Bldg. 5700
Room 193
Fort Rucker, AL 36332
Phone (334) 255-3735
Phone (DSN) 558-3161
Civilian Personnel Office
Civilian Personnel Advisory Center (CPAC)
Novosel Street
Bldg 5700
Room 280
Fort Rucker, AL 36362
Phone (334) 255-9015
Commissary/Shoppette
Commissary
Hutton Plaza Rd
Bldg 9213
Fort Rucker, AL 36362
Phone (334) 255-2122
Phone (DSN) 558-2122
Dental Clinics
Dental Clinic
Innkeepers Street
Bldg 4405
Fort Rucker, AL 36362
Phone (334) 255-2367
Phone (DSN) 558-2367
DoD Schools
Fort Rucker School System
Red Cloud Road
Building 21038
Fort Rucker, AL 36362
Phone (334) 598-4408/4473
Educational and Developmental Intervention Services (EDIS)
Educational and Developmental Intervention Services (EDIS)
Dust Off Street
Bldg. 301
Fort Rucker, AL 36362
Phone (334) 255-7237
Phone (DSN) 558-7237
Educational and Developmental Intervention Services (EDIS)
Educational and Developmental Intervention Services (EDIS)-Mailing Address
CDR USAMEDDAC
Bldg. 301, MCXY EDIS
Fort Rucker, AL 36362-5333
Phone (334) 255-7237
Phone (DSN) 558-7237
Emergency Relief Services
Army Emergency Relief
Novosel Street,
Building 5700
Room 390
Fort Rucker, AL 36362-5000
Phone (334) 255-2341
Phone (DSN) 558-2341
Emergency Relief Services
American Red Cross
Novosel Street
Building 5700
Rm 373
Fort Rucker, AL 36362
Phone (334) 255-1055
Phone (DSN) 558-1055
Exceptional Family Member Program/Special Needs
ACS Exceptional Family Member Program
Novosel Street
Bldg. 5700
Room 390
Fort Rucker, AL 36362
Phone (334) 255-9277
Phone (DSN) 558-9277
Exceptional Family Member Program/Special Needs
Exceptional Family Member Program (EFMP)
Dust Off Street
Bldg. 301
Fort Rucker, AL 36362-5000
Phone (334) 255-7431
Phone (DSN) 558-7431
Exchange(s)
Fort Rucker Exchange
Hutton Plaza
Bldg 9214
Fort Rucker, AL 36362
Phone (334) 503-9044, ext 228
Family Advocacy Program
Family Advocacy Program (FAP)
Novosel Street
Building 5700
Rm 390
Fort Rucker, AL 36362
Phone (334) 255-3898
Phone (DSN) 558-3898
Family Center
Army Community Service
IMSE-RCK-MWA
Bldg. 5700
Room 193
Fort Rucker, AL 36362
Phone (334)255-3817
Phone (DSN) 558-3817
Family Child Care/Child Development Homes
Family Child Care
Novosel Street
Building 5700, Rm. 373
Fort Rucker, AL 36362
Phone (334) 255-3446
Federal Credit Unions
Army Aviation Center Federal Credit Union
341 North Daleville Avenue
Daleville, AL 36322
Phone 334-598-4411
Finance Office
Defense Military Pay Office
Novosel Street
Bldg 5700, Room 120
Fort Rucker, AL 36362
Phone (334) 255-9798
Phone (DSN) 558-9798
Golf Courses
Silver Wings Golf Course
Combat Road
Bldg. 20067
Fort Rucker, AL 36362
Phone (334) 598-2449
Gymnasiums/Fitness Centers
Sports, Fitness, and Aquatics Branch
Andrews Ave.
Bldg 4605
Fort Rucker, AL 36362
Phone (334) 255-2296
Health Benefits Advisory
TRICARE Office – Patient Reresentative
Dust Off Street
Bldg. 301
Fort Rucker, AL 36362
Phone (334) 255-7337
Hospital/Medical Treatment Facility(s)
Lyster Army Health Clinic
Dust Off Street
Bldg. 301
Fort Rucker, AL 36362
Phone (334) 255-7000
Household Goods/Transportation Office (inbound)
Transportation Office
Novosel Street
Bldg 5700
Room270
Fort Rucker, AL 36362
Phone (334) 255-9842
Phone (DSN) (334)255-9482
Household Goods/Transportation Office (outbound)
Transportation Office
Novosel Street
Bldg 5700
Room270
Fort Rucker, AL 36362
Phone (334) 255-9842
Phone (DSN) (334)255-9482
Housing Office/Government Housing
Family Housing Office
Novosel Street
Building 5700
Room 160
Fort Rucker, AL 36362
Phone (334) 255-1205
Phone (DSN) 558-1205
Housing Referral Office/Housing Privatization
Picerne Military Housing Relocation Office
Andrews Avenue
Building 5700
Fort Rucker, AL 36362
Phone (334) 503-3644
ID/CAC Card Processing
ID Cards
Novosel Street
Bldg 5700
Room 160
Ft. Rucker, AL 36362
Phone (334) 255-9241
Phone (DSN) 558-9241
Information and Referral Services
Army Community Service
IMSE-RCK-MWA
Bldg. 5700
Room 193
Fort Rucker, AL 36362
Phone (334)255-3817
Phone (DSN) 558-3817
Legal Services/JAG
Legal Assistance
Novosel Street
Building 5700, Room 320
Fort Rucker, AL 36362-5000
Phone (334) 255-3482
Phone (DSN) 558-3482
Library
Aviation Center Library
5th Avenue &Novosel Street
Building 212
Fort Rucker, AL 36362
Phone (334) 255-3885
Phone (DSN) (334) 558-3885
Loan Closet
ACS Relocation Readiness Program
Novosel Street
Bldg. 5700
Room 193
Fort Rucker, AL 36332
Phone (334) 255-3735
Phone (DSN) 558-3161
MWR (Morale Welfare and Recreation)
Morale, Welfare, and Recreation (MWR)
Novosel Street
Bldg 5700
Room 350
Fort Rucker, AL 36362-5000
Phone (334) 255-9810
Phone (DSN) 558-9810
Military Clothing Sales
Mini Mall/Troop Store
Andrews Avenue
Bldg 6600
Fort Rucker, AL 36362
Phone (334) 503-9338 ext 101/108
Non-appropriated Funds (NAF) Human Resources
Non-appropriated funds (NAF) Human Resources
Novosel Street
Building 5700, Room 280
Fort Rucker, AL 36362
Phone (334) 255-2190
Personal Financial Management Services
ACS Financial Readiness Program
Novosel Street
Bldg. 5700
Room 390
Fort Rucker, AL 36362
Phone (334)255-9631
Phone (DSN) 558-9631
Personnel Support Office
In-Processing Office
Novosel Street
Building 5700
Room 280
Ft. Rucker, AL 36362
Phone (334)255-1809
Phone (DSN) 558-1809
Relocation Assistance Program
Relocation Readiness Program
Novosel Street
Bldg 5700
Room 193
Fort Rucker, AL 36362-5000
Phone (334) 255-3161
Phone (DSN) 558-3735/3161
Restaurants/Fast Food
Aviators' Landing
Novosel Street
Bldg. 113
Fort Rucker, AL 36362
Phone (334) 598-2426
Retirement Services
Retirement Services
Novosel Street
Building 5700, Room 161
Fort Rucker, AL 36362
Phone (334) 255-9124
School Age Care
School Age Services
Corner of Division Road & 7th Avenue
Bldg 2806
Fort Rucker, AL 36362-5000
Phone (334) 255-9108
School Liaison Office/Community Schools
School Liaison Services
Novosel Street
Soldier Service Center, Bldg 5700, Suite 390
Fort Rucker, AL 36362
Phone 334-255-9812
Phone (DSN) 558-9812
Spouse Education, Training and Careers
Employment Readiness Program (ERP)
Novosel St.
Buliding 5700
Room 390
Fort Rucker, AL 36362
Phone (334)255-3949
Phone (DSN) 558-3949
Temporary Lodging/Billeting
Temporary Lodging
6th Avenue
Building 308
Fort Rucker, AL 36362
Phone (334)598-5216
Phone (DSN) 558-2626
Travel Office
ITR Office (Information, Ticketing and Registration)
Novosel Street
Bldg 5700, Rm. 130
Fort Rucker, AL 36362
Phone (334) 255-2997/9517
Phone (DSN) 558-2997/9517
VA Facilities
VA Dothan Outpatient Clinic
2020 Alexander Drive
Dothan, AL 36301
Phone (334) 673-4166
Veterinary Services
Veterinary Treatment Facility
Dust Off Street
Building 7204
Fort Rucker, AL 36362
Phone (334) 255-9061
Phone (DSN) 558-9061/3470
Victim Advocate Services
FAP Victim Advocate
Novosel Street
Building 5700, Rm 390
Fort Rucker, AL 36362
Phone (334) 255-9644
Phone (DSN) 558-9644