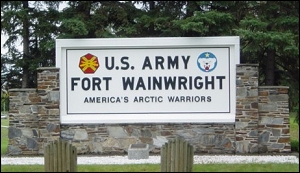 Location
Fort Wainwright is located adjacent to Fairbanks in the interior of Alaska. The post is located in the North Star Borough. A borough in Alaska is equivalent to a county in the lower 48 states. Fairbanks, the second largest city in Alaska, is located 365 miles north of Anchorage, Alaska. You'll find that the cost of housing and other living expenses in the Fairbanks area is very high. On post housing can be quite a wait and off-post housing is also very limited. The weather in Fairbanks has the largest swing in the world. It reach 90 degrees in the summer and a negative 65 degrees in the winter. Soldiers and their families assigned to Fort Wainwright will be able to enjoy breathtaking scenery abundant hunting, fishing and camping, regal mountains, diverse wildlife and the friendly independent people who will be their neighbors. The base operator's phone number is (907)353-1110 or DSN (317)353-1110.
History
Many political and military leaders advocated building military bases in Alaska several years prior to World War II. Finally, when war threatened in 1939, Congress granted $4 million to construct an Army cold-weather experimental station at Fairbanks. In 1961, the Army renamed the post Fort Jonathan M. Wainwright after the general who, with his men, valiantly defended the Bataan Peninsula during the first few months of World War II. Since then Fort Wainwright has been home to several units, including the 171st Infantry Brigade (Mechanized), a Nike-Hercules battalion, and the 172nd Infantry Brigade and the 6th Infantry Division (Light). In 2001, Fort Wainwright was selected as the third Stryker Brigade Combat Team and, in 2006, the post was selected as the home of Task Force 49 Aviation Brigade.
Mission
Fort Wainwright's mission is to deploy combat ready forces to support joint military operations worldwide and serve as the Joint Force Land Component Command to support Joint Task Force Alaska. Our strategic location, superior training capabilities and dynamic relationship with our local civilian communities make Fort Wainwright and United States Army in Alaska a significant national asset and world-class power projection platform for military operations anywhere in the world.
Population Served
Fort Wainwright has 5,108 soldiers stationed at Fort Wainwright, and 5,798 command sponsored dependents reside with those soldiers on post or in the surrounding community. Also, 915 civil service employees and 273 non-appropriated employees work at Fort Wainwright, for a total of 1188 civilians working on post.
Base Transportation
Armed Services YMCA (ASYMCA) has a free shuttle service on Fort Wainwright. This service is for Soldiers and family members. Call (907) 353-FREE/3733 to request a shuttle and the shuttle driver will take you where ever you need to go on Fort Wainwright.
Sponsorship
To obtain a sponsor at Fort Wainwright prior to your arrival, send your request to USARAK, ATTN: APVR-AG-SE, 600 Richardson Drive, Fort Richardson, AK 99505-5100, or call (907) 384-1970/1969/1967, DSN (317) 384-1970/1969/1967. If not being met by your sponsor, report to the Welcome Center, Building 3401. If arriving after duty hours, contact the Welcome Center at (907) 353-2273. If you need to send mail to Fort Wainwright, call 1 (800)-275-8777, ask for the post office on Fort Wainwright and then ask for their requirements for forwarding mail to Fort Wainwright.
Temporary Quarters
With the popularity of recreational travel to Alaska and the large number of official travelers, U.S. Army Alaska Lodging strives to offer the finest temporary lodging to both official and Space Available travelers. The popularity of Alaska means lodging is usually 100 percent booked from April through September. For the best chance of a successful booking, it is recommended that guests make reservations as soon as they are eligible. For reservations at Fort Wainwright's Northern Lights Inn (Building 3402) call (907) 353-3800, 24 hours a day to reserve one of its 90 rooms.
Relocation Assistance
The Relocation Readiness Program is located in Rooms 58 and 59 of the Welcome Center, in Building 3401. Welcome packets, maps and other local information are available. Computers are available in the Family Readiness Center, also located in the Army Community Service area of the Welcome Center. The Relocation Lending Closet offers household items for 30 day loan. Fort Wainwright's two-day long Newcomers Orientation is held from 0800-1500, every second Wednesday and Thursday of each month, at the Battle Command Training Center. For more assistance, contact us at (907) 353-4333/7908, DSN (317) 353-4227.
Critical Installation Information
Fort Wainwright is considered an overseas tour. If you have dependents and you want your family members to accompany you to Alaska, your PCS orders must say "concurrent travel" and have each family member's name on your orders. Each family member must have completed the Exceptional Family Member screening and have Command Sponsorship.
If your PCS orders say "deferred travel" for your family, then you need to travel to Alaska alone. After you arrive and sign into Fort Wainwright, you can begin the Command Sponsorship process. Have your family complete the Exceptional Family Member screening at the losing post and wait to hear from you for further instructions.
Major Units
172nd BSB, HHC
Contact Information:
CQ
COM: 907-353-1860
DSN: 317-353-1860
4-14 CAV, HHC
Contact Information:
CQ
COM: 907-353-9662
DSN: 317-353-9662
4-14 CAV, A Troop
Contact Information:
CQ
COM: 907-353-9662
DSN: 317-353-9662
4-14 CAV, B Troop
Contact Information:
CQ
COM: 907-353-9662
DSN: 317-353-9662
4-14 CAV, C Troop
Contact Information:
CQ
COM: 907-353-9662
DSN: 317-353-9662
4-14 CAV, D Troop
Contact Information:
CQ
COM: 907-353-9662
DSN: 317-353-9662
1-17th IN, C Co.
Contact Information:
CQ
COM: 907-353-2593
DSN: 317-353-2593
172nd Brigade Support Battalion
Contact Information:
S-1
COM: 907-353-1604
DSN: 317-353-1604
1-17th IN, Alpha 52nd Anti -Tank Company
Contact Information:
CQ
COM: 907-353-3499
DSN: 317-353-3499
2-1 Infantry Battalion
Contact Information:
S-1
COM: 907-353-2087
DSN: 317-353-2087
2-1 IN, HHC
Contact Information:
CQ
COM: 907-353-2400
DSN: 317-353-2400
2-1 IN, A Co.
Contact Information:
CQ
COM: 907-353-3201
DSN: 317-353-3201
2-1 IN, B Co.
Contact Information:
CQ
COM: 907-353-2481
DSN: 317-353-2481
2-1 IN, C Co.
Contact Information:
CQ
COM: 907-353-2466
DSN: 317-353-2466
2-1 IN, 562nd Engineer Co.
Contact Information:
CQ
COM: 907-353-2747
DSN: 317-353-2747
4-11th Field Artillery Battalion
Contact Information:
S-1
COM: 907-353-1510
DSN: 317-353-1510
4-11th FA, A Battery
Contact Information:
CQ
COM: 907-353-1545
DSN: 317-353-1545
4-11th FA, B Battery
Contact Information:
CQ
COM: 907-353-1545
DSN: 317-353-1545
4-11th FA, C Battery
Contact Information:
CQ
COM: 907-353-1500
DSN: 317-353-1500
4-11th FA, 21st Signal Company
Contact Information:
CQ
COM: 907-353-1500
DSN: 317-353-1500
4-14 Cavalry Squadron
Contact Information:
S-1
COM: 907-353-7093
DSN: 317-353-7093
172nd Stryker Brigade Combat Team
Contact Information:
S-1
COM: 907-353-6620
DSN: 317-353-6620
1-17th Infantry Battalion
Contact Information:
S-1
COM: 907-353-2510
DSN: 317-353-2510
1-17th IN, HHC
Contact Information:
S-1
COM: 907-353-2510
DSN: 317-353-2510
1-17th IN, A. Co.
Contact Information:
CQ
COM: 907-353-2529
DSN: 317-353-2529
1-17th IN, B Co.
Contact Information:
CQ
COM: 907-353-2561
DSN: 317-353-2561
1-17th IN, Charlie Co.
Contact Information:
CQ
COM: 907-353-2508
DSN: 317-353-2508
172nd BSB, A Co.
Contact Information:
CQ
COM: 907-353-1449
DSN: 317-353-1449
1-52nd AVN, 68th Medical Evacuation Company
Contact Information:
CQ
COM: 907-353-1277
DSN: 317-353-1277
28th Military Police
Contact Information:
Desk SGT
COM: 907-353-7535
DSN: 317-353-7535
Cold Regions Test Center
Contact Information:
1 SGT
COM: 907-353-1161
DSN: 317-353-1161
507th Signal Company
Contact Information:
Secretary
COM: 907-353-0597
DSN: 317-353-0597
Bassett Army Community Hospital
Contact Information:
Information
COM: 1-800-478-5172
DSN: 317-353-5172
Kamish Clinic
Contact Information:
Help Desk
COM: 907-353-1207
DSN: 317-353-1207
Veterinary Clinic
Contact Information:
Help Desk
COM: 907-353-2910
DSN: 317-353-2910
172nd Stryker Brigade Combat Team, HHC
Contact Information:
CQ
COM: 907-353-9800
DSN: 317-353-9800
D Co.123 AVN
Contact Information:
COM: 907-353-7066
DSN: 317-353-7066
172nd BSB, B Co.
Contact Information:
CQ
COM: 907-353-1072
DSN: 317-353-1072
172nd BSB, C Co.
Contact Information:
CQ
COM: 907-353-2627
DSN: 317-353-2627
172nd BSB, 310th CSSC
Contact Information:
CQ
COM: 907-353-1860
DSN: 317-353-1860
203rd Personnel Services Battalion
Contact Information:
S-1
COM: 907-353-2370
DSN: 317-353-2370
203rd PSB 9th Army Band
Contact Information:
CQ
COM: 907-353-6398
DSN: 317-353-6398
125th Finance
Contact Information:
Help Desk
COM: 907-353-2273
DSN: 317-353-2273
1-52 AVN C Co
Contact Information:
COM: 907-353-6348
DSN: 317-353-6348
Aviation Task Force 49
Task Force Commander
Task Force CSM
1-52 AVN D Co.
Contact Information:
COM: 907-353-0272
DSN: 317-353-0272
1-52 AVN E Co.
Contact Information:
COM: 907-353-0475
DSN: 317-353-0475
1-52 AVN, A Co
Contact Information:
COM: 907-353-0272
DSN: 317-353-0272
1-52 AVN, B Co
Contact Information:
COM: 907-353-9650
DSN: 317-353-9650
1-52 AVN, HHC
Contact Information:
COM: 907-353-0083
DSN: 317-353-0083
C Co-123 AVN
Contact Information:
COM: 907-353-1273
DSN: 317-353-1273
1984th Medical Unit
411th ENG Unit
Contact Info
Fort Wainwright
Intersection of Richardson & Steese Highways
Fairbanks, AK 99703
Adult Education Centers
Education Center
2110 Montgomery Rosd
Building 2110 Montgomery Road
Fort Wainwright, AK 99703
Phone 907-353-7486
Phone (DSN) 317-353-7486/6355
Automotive Services
AAFES Auto Service Station
3562 Neely Road
Building 3562
Fort Wainwright., AK 99703
Phone (907) 356-1263/1804
Chapels
Protestant Services
3430 Luzon Street
Building 3430
Fort Wainwright, AK 99703
Phone 907-353-2088
Phone (DSN) 317-353-2088
Child Development Centers
Child Development Center (CDC)
4024 600th Street
Building 4024
Fort Wainwright, AK 99703
Phone 907-356-1550
Phone (DSN) 317-353-4190
Child and Youth Registration and Referral
Central Registration for Childcare (CYS)
4176 Neely Rd.
Building 4176
Ft. Wainwright, AK 99703
Phone 907-353-7713
Phone (DSN) 317-353-7713
Commissary/Shoppette
Shoppette
(North Post) building 1021
Fort Wainwright, AK 99703
Phone 907-356-1133
Commissary/Shoppette
Shoppette (South Post)
Fort Wainwright, AK 99703
Phone 907-356-2349
Commissary/Shoppette
Commissary
3703A Southgate Road
Fort Wainwright, AK 99703
Phone 907-353-7452
Emergency Relief Services
Army Emergency Relief (AER)
Building 3401 Santiago Ave.
Ft. Wainwright, AK 99703
Phone 907-353-7453
Phone (DSN) 317-353-7453
Emergency Relief Services
American Red Cross
1024 Apple Street
P.O. Box 35007
Ft. Wainwright, AK 99703
Phone 907-353-7234
Phone (DSN) 317-353-7234
Exceptional Family Member Program/Special Needs
Exceptional Family Member Program (EFMP)
3401 Santigo Avenue
Building 3401
Fort Wainwright, AK 99703
Phone 907-353-4243
Phone (DSN) 317-353-4243
Exchange(s)
AAFES (Army, Air Force Exchange Services)
3023 Neely Road
Building 3023
Ft. Wainwright, AK 99703
Phone 907-353-6051/6045
Family Advocacy Program
Family Advocacy
3401 Santiago Avenue
Building 3401 Santiago Avenew
Fort Wainwright, AK 99703
Phone 907-353-7317
Phone (DSN) 317-353-7317
Family Center
Army Communtiy Service
APVR-WCA-AC
3401 Santiago Avenue
Fort Wainwright, AK 99703
Phone 907-353-4ACS (4227)
Phone (DSN) 3217-353-4ACS (4227)
Golf Courses
Chena Bend Golf Course
2092 Ketchum Rd.
Building 2092
Ft. Wainwright, AK 99703
Phone 907-353-6223/7830
Gymnasiums/Fitness Centers
Physical Fitness Center
3709 Southgate and Meridian
Building 3709 Southgate and Meridian
Fort Wainwright, AK 99703
Phone 907-353-7274
Phone (DSN) 317-353-7274
Hospital/Medical Treatment Facility(s)
Family Troop Medical Clinic (Kamish Clinic)
3406 Alder Ave
Fort Wainwright, AK 99703
Phone Appt 907-353-4000
Household Goods/Transportation Office (inbound)
Transportation Office
3401 Santiago Avenue
Building 3401, Santiago Avenue, First Floor Room 118
Fort Wainwright, AK 99703
Phone 907-353-1150
Phone (DSN) 317-353-1150
Household Goods/Transportation Office (outbound)
Transportation Office
3401 Santiago Avenue
Building 3401, Santiago Avenue, First Floor Room 118
Fort Wainwright, AK 99703
Phone 907-353-1150
Phone (DSN) 317-353-1150
Housing Office/Government Housing
Fort Wainwright Housing
3401 Santiago Avenue
Building 3401 Santiago Avenue, First Floor
Fort Wainwright, AK 99703
Phone 907-353-1190
Phone (DSN) 317-353-1666
Housing Referral Office/Housing Privatization
Community Homefinding Relocation Services
3401 Santiago Avenue
Building 3401, Santiago Avenue on the first floor
Fort Wainwright, AK 99703
Phone 907-353-1660/1666
Phone (DSN) 317-353-1660/1666
ID/CAC Card Processing
ID Card Section
3401 Santiago Avenue
Building 3401 Santiago Avenue
Fort Wainwright, AK 99703
Phone 907-353-2243
Information and Referral Services
Information & Referral
3401 Santigo Avenue
Building 3401 Santiago Avenue
Ft. Wainwright, AK 99703
Phone 907-353-4227
Phone (DSN) 317-353-4227
Library
Post Library
3700 Santiago Avenue
Building 3700, Santiago Avenue
Fort Wainwright, AK 99703
Phone 907-353-2642
Phone (DSN) 317-353-2642
Loan Closet
Relocation Lending Closet
3401 Santiago Avenue
Building 3401,The Welcome Center
Army Community Service, Room 126
Fort Wainwright, AK 99703
Phone 907-353-4333
Phone (DSN) 317-353-4333
MWR (Morale Welfare and Recreation)
Outdoor Recreation
Building 4058
Ft. Wainwright, AK 99703
Phone Summer 907-353-6349/6350
New Parent Support Program
New Parent Support Program
3401 Santiago Avenue
Building 3401, Santiago Avenue, The Welcome Center
Army Community Service, room 100
Fort Wainwright, AK 99703
Phone 907-353-7515
Phone (DSN) 317-353-7515
Non-appropriated Funds (NAF) Human Resources
Non-Appropriated Funds (NAF)
3401 Santiago Avenue
Building 3401, Santiago Avenue
The Welcome Center, First Floor
Fort Wainwright, AK 99703
Phone 907-353-7203
Phone (DSN) 317-353-7203
Personal Financial Management Services
Financial Readiness Program
3401 Santiago Avenue
Building 3401 Santiago Avenue
Fort Wainwright, AK 99703
Phone 907-353-7438
Phone (DSN) 317-353-7438
Personnel Support Office
Military Personnel Division
3401 Santiago Road
Ft. Wainwright, AK 99703
Phone 907-353-2273
Phone (DSN) 317-353-2273
Relocation Assistance Program
Relocation Readiness
3401 Santiago Avenue
Building 3401, Santiago Avenue, Welcome Center
Army Community Service, Room 126
Fort Wainwright, AK 99703
Phone 907-353-7908
Phone (DSN) 317-353-7908
School Liaison Office/Community Schools
School Liaison Officer
4176 600th Street & Neely Street
Building 4176, 600th & Neely
Fort Wainwright, AK 99703
Phone 907-353-YESS (9377)
Phone (DSN) 317-353-YESS (9377)
Spouse Education, Training and Careers
Employment Readiness Program
3401 Santiago Avenue
Building 3401 Santiago Avenue
Fort Wainwright, AK 99703
Phone 907-353-4327
Phone (DSN) 317-353-4327
Temporary Lodging/Billeting
Billeting-Northern Lights Lodging
3402 Santiago Road
Fort Wainwright, AK 99703
Phone 907-353-3800
Transition Assistance Program
Army Career and Alumni Program (ACAP)
3401 Santiago Ave.
Room 248
Ft. Wainwright, AK 99703
Phone 907-353-2113
Phone (DSN) 317-353-2113
Travel Office
SATO Office
3401 Santiago Avenue RM 242
Fort Wainwright, AK 99703
Phone 907-353-1166
Phone (DSN) 317-353-1166
Veterinary Services
Veterinary Services
3597 Oak Avenue
Building 3597, Oak Avenue
Fort Wainwright, AK 99703
Phone 907-353-2910
Phone (DSN) 317-353-2910
Welcome/Visitors Center
Visitor Center (Main Gate)
Front Gate on Gaffney Road
Fort Wainwright, AK 99703
Phone 907-353-6144
Women, Infants, and Children (WIC & WIC-O)
WIC – Women, Infants and Children
1064 Apple St.
Building 1064 Apple Street
Fort Wainwright, AK 99703
Phone 907-353-7785
Phone (DSN) 317-353-7785
Youth Programs/Centers
Youth Services
4109 Neely Road
Building 4109, Neely Road
Fort Wainwright, AK 99703
Phone 907-353-7488
Phone (DSN) 317-353-7488